You are listening to The McDodi Farms Theme©, composed by The Jester.
"Ride one today and you will own one tomorrow" "Ride of your Life" How true these quotes are. When my husband and I first got on a Tennessee Walking Horse, we never looked back. They are a perfect match for the baby boomers that are not looking for a bumpy trot.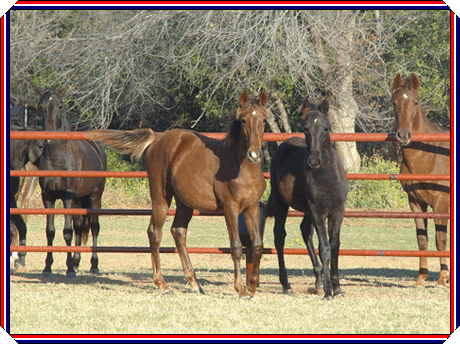 The Tennessee Walker has a docile temperament and is willing to learn. They are considered a warm breed, which means they have a lot of spirit, yet are easy to control.
Read about an exceptional 'Long Rider, Gene Glasscock'.
McDodi Farms is pleased to offer these fine Tennessee Walking horses for sale.
We can make arrangements to ship overseas.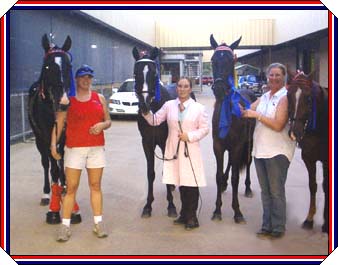 "Da Boyz"
Spirit, Vengie, Master and Major - all blue ribbon winners in the 2004 Futurity.
PLEASE CLICK ON THE IMAGES TO LOAD DETAILS, PEDIGREES AND MORE PHOTOS.
THE PEDIGREES ALSO CONTAIN CLICKABLE LINKS.
| | |
| --- | --- |
| JOSE' BLACK SHADOW #21400865 - Joe is a 3 year old black Tennessee Walking Horse gelding by Jose' Jose'. He is currently 15.2 and is expected to finish out about 15.3 to 16 hands. Very quiet and well-mannered. Great temperament and gaits and very steady. Suitable for AOT. Show on Saturday and trail ride on Sunday. Current on shots and Coggins. Foaled 04/20/2014. Located in Burleson, Tx. Asking $6000. | |
| | |
| --- | --- |
| | TOOT TOOT TOOTSIE #20905287 - Beautiful, big, 15.3 hand, 8 year old, flea-bitten grey Tennessee Walking Horse mare by Push Me Bold, out of Just A Q-Tip, a daughter of Pusher's Big Score. She is an easy-to-handle broodmare with classic conformation and a long-striding gait. Toot Toot Tootsie is also a granddaughter of Bold Design, and a great granddaughter of Ebony's Bold Courier, Pride's Sun Rise and The Pusher CG. Her illustrious pedigree also includes Ebony Masterpiece, Mark Of Carbon, The Super Sport, Pride Of Midnight HF, and Triple Threat. She is bred to I'm Copperfield, with all stud fees paid and due to foal in mid-May of 2018. Current on all her shots. Foaled 04/25/2009. Located in Burleson, TX. Priced at $3500. |
| | |
| --- | --- |
| QUEEN #pend. - Very pretty, classic sorrel roan sabino Tennessee Walking Horse filly, with a blaze and both hind stockings. By Jazz King, out of Chiquita Banana, she has a royal pedigree. She is the grand-daughter of both A Jazz Man and Jose' Jose'. She also has the genes of Prides Generator, Mark Of Carbon, Gen.'s Major General, Pusher's Doing Time, Pride Of Midnight HF, GLL's Carbon Copy, The Witch Doctor, Pride's Stormy Night, and The Pusher CG. 05/03/2017. Priced at $4,000. | |
| | |
| --- | --- |
| | A SPLASH OF LIME #21500146 - Strawberry roan Tennessee Walking Horse gelding, by Royal Limelight out of Sheza Platinum Score, a daughter of Pusher's Big Score. This young horse has the coloring to get you noticed and the talent to keep their attention. He is started under saddle, well-gaited and is friendly with people. Foaled 4/17/2015. Located in Texas. Priced at $3000. |
| | | |
| --- | --- | --- |
| | YES YOUR HONOR #21700104. - Fabulous chestnut filly with a large star and gait to burn. By Honors x That Lady's In Command, she has a royal pedigree, top and bottom. Her sire is the current World Grand Champion, with a solid history of blue ribbons on his record. Her dam, That Lady's In Command won the 2 year old filly World Championship out of 47 entries in 1997, and many other prestigious shows in Middle Tennessee. She is the famous dam of Crimson Sky, The Skyline and The Sky Command. So far, EVERY colt she has produced has excelled in the show ring. With bloodlines like that, Yes Your Honor is sure to make her mark in the show ring as well. Foaled 04/19/17. Located in Texas. Priced at $12,000. ~~sale pending~~ | |
| | |
| --- | --- |
| THE LAST WAVE #20202027 - Beautiful black, 15.2 hand Tennessee Walking Horse mare by Countdown Heat Wave, out of a mare by Ebony's Threat A. Her pedigree is stacked, with Ebony Masterpiece on top and bottom, along with Ebony's Countdown, Skipper Son Midnight, Sun's Delight D, Go Boy's Shadow, Midnight Sun, Ebony Princess C., Triple Threat, Double J's Mr. Hi-Hat and Spirit Of Midnight. She was shown successfully as a two-year-old, but has not been ridden recently. She has had 5 foals to date. This mare is sweet-natured and easy to handle. She would be an asset to any breeding program. Foaled 03/14/2002. Located in Texas. She is for sale for $2000. | |
NEXT GENERATION OF JAZZ

#21100846 - This outstanding filly is by Pusher's Next Generation, out of Jazz Dark Design (A Jazzman x Dark Design Love). She won the weanling grand championship with SWHBA 2011. This filly has it all, great temperament, looks and moves like a dream. Very easy to handle with a lot of sense to her. Unsuitable for riding. Can be used as a broodmare or pet only. Foaled 04/12/2011. Priced at $1000 US Funds.
TED'S ALL NATURAL

#21100987 -

Gorgeous chestnut young Tennessee Walking Horse gelding by the great

Ted Williams

out of a Silver Dollar mare,

Dollar's Black-Eyed Suesan

. Ted Williams has a well deserved reputation for siring winning offspring in both pleasure and performance divisions and the dam was a good show mare in her own right. This beautiful boy was the

2011

SWHBA Weanling Champion

Stallion. He walks up a storm and is easy to handle. This little guy has been gelded. He's about 14.1 hands and is so good natured. He currently barefoot and is real walky. Suitable for companionship only, not riding. Foaled 04/26/2011. Current on all shots and Coggins.

Call for info.
| | |
| --- | --- |
| | A RENDITION OF RITZ #20801563 - Chestnut Tennessee Walking Horse mare with a blaze and a flaxen mane and tail. She is by He's Puttin' On The Ritz, out of Magic's Dreamwalker. Foaled 04/07/2008. She is priced at $4000. |
LIGHTNING CUT DIAMOND

#20700921 - Black, 15.1 hand, Tennessee Walking Horse mare. By Stormy's Lightning x

Brilliant Cut Diamond

. Excellent breeding. Wonderful broodmare prospect. Due to a stall injury this mare is only suitable for light riding. She will make a wonderful broodmare. Great flat shod racking mare. Needs intermediate rider. Foaled 03/17/2007. Priced at $3500 US FUNDS.
| | | |
| --- | --- | --- |
| | HAL'S LADY THREAT #923937 - 15.2 hh, black and beautiful Tennessee Walking Horse mare by Pride's Hallelujah. Lady won the State Fair of Texas/ Regional Futurity Dam of the Year 2001 Class. She was also SWHBA Dam Of The Year in 2000. All of Lady's foals have made it to the show ring, yet they are all level-headed and good on the trails as well. Excellent broodmare, proven producer. Foaled 05/12/1992. Priced at $2,000 US funds. | |
| | | |
| --- | --- | --- |
| | HAL'S ROYALTY #979724 - Beautiful, gentle, 15.2 hand, chestnut Tennessee Walking Horse mare, with mixed mane and tail. By Pride's Royal Master out of a Pride's Hallelujah mare. Very successful show record. Proven producer. Foaled 10/12/1997. $3,500 US funds. | |
| | | |
| --- | --- | --- |
| | SLICK'S ONE TIME OVER NSSHA #521096 - Pretty little 11 year-old, black tobiano Spotted Saddle Horse mare. 13 hands. Great for intermediate level riders. Walks, trots, and canters. Loves the trails and bath time. Quiet with farrier. Stands well for saddling up. No problems. Wins the heart of everyone she comes in contact with. Foaled 05/10/2006. Located in Texas. For more info, contact Darlene at PH. 972-742-5200. Serious inquiries only. Selling for $2500. | |
SPIRIT OF THE DOVE #1031898- Stunningly beautiful 14 year-old 15 hand champagne/palomino registered racking horse gelding. 2009 world champion in halter class, Racking Horse celebration in Decatur, Alabama, along with many other blues in the same class. He is beautiful and has a sweet loving personality as well. Stands for saddling, farrier, vet, bathing,

fly spray, grooming. You can take this guy on the trails, in the show ring and he will perform a slow rack, a fast rack and has an awesome canter. Loads well. He is a very friendly horse that loves to be around people. Family safe. He's a great horse to ride with the saddle or bareback. Don't miss out on this rare find. First person that comes out to ride him will want to bring him home. Pictures don't do him justice. Too good a horse not to be used. Located in Texas. For more info, contact Darlene at PH. 972-742-5200. Serious inquiries only. Priced at $7,600 US funds.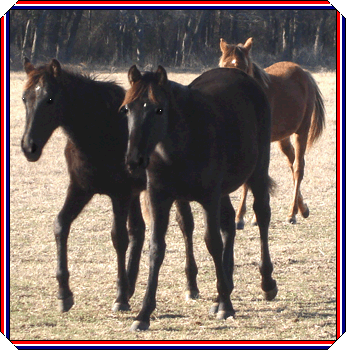 The three muskateers, Awesome Choice, Hal Capony, and Zeus are in the pasture together
and the three colts hang in their own little herd.
AC the chestnut is by Wired to Be Awesome, Capony is by Chicago, and Zeus is by Stormy Lightning.
Please contact us for further information on these horses.
Overseas transport can be arranged.

5TH OF GIN
~~ SOLD ~~



A PALE JAZZ


~~ SOLD ~~

A ROYAL
VENGEANCE
~~ SOLD ~~

ALICE TEXAS
~~ SOLD ~~



ALL AMERICAN GOLD


~~ SOLD ~~

AN AWESOME BEAUTY
~~ SOLD ~~

ANNIE'S
GOT HER GUN
~~ SOLD ~~

AWESOME BRILLIANCE
~~ SOLD ~~

AWESOME CHOICE
~~ SOLD ~~

AWESOME DIVA
~~ SOLD ~~

AWSOME LOVE
~~ SOLD ~~

BLACK GAL'S BEAUTY
~~ SOLD ~~

BLACK GAL'S SALLY SUE
~~ SOLD ~~

BOLD CHICK
~~ SOLD ~~

CASH
AND CHROME
~~ SOLD ~~

CASH FOR THE KNIGHT
~~ SOLD ~~

CHASHER'S
HIGH DOLLAR
~~ SOLD ~~

COLLECTOR'S PRINCESS
~~ SOLD ~~

COPPER
COATED
~~ SOLD ~~

COPPER GENS KEEPSAKE
~ SOLD ~

CROOKED CASH
~ SOLD ~

DELIGHTFULLY DUMAS
~ SOLD ~

DELIGHT'S
GEN 'N ICE
~~ SOLD ~~

DOLLARS BLACK-EYED SUESAN
~~ SOLD ~~

DORAL
~~ SOLD ~~

DOSE OF DOC
~~ SOLD ~~

EL MAESTRO
DE JAZZ
~~ SOLD ~~

FROSTY
COLORS
~~ SOLD ~~

FANTASMO
~~ SOLD ~~

GANGSTER LADY
~ SOLD ~

GEAUX GEAUX GIRL
~~ SOLD ~~

GENE'S AWESOME MIRACLE
~~ SOLD ~~

GENERAL'S STORMY LADY
~~ SOLD ~~

GOLD N MASQUERADE
~~ SOLD ~~

HAL CAPONY
~~ SOLD ~~

HAPPY PETALPUSHER
~~ SOLD ~~

HARLEY
CLASSIC
~~ SOLD ~~

HE'S A MAJOR PUSH
~~ SOLD ~~

HE'S MAJOR LIGHTNING
~~ SOLD ~~

HE'S PUSHIN THE DOLLAR
~~ SOLD ~~

HE'S THE COACH
~~ SOLD ~~

HOLD THE LINE
~~ SOLD ~~

I GOT DADDY'S CASH
~~ SOLD ~~

ICE ANGEL
~~ SOLD ~~

I'M DUMAS PROUD
~~ SOLD ~~

I'M MS INDEPENDENCE
~~ SOLD ~~

I'M NO SISSY
~~ SOLD ~~
~
JAZZ LINE
~~ SOLD ~~

JOSE'S BEST GIRL
~~ SOLD ~

JOSE'S PERFECTO
~~ SOLD ~~

JUNGLE QUEEN
~~ SOLD ~~

LIGHTNING BY OOPS G.F.
~~ SOLD ~~



LIGHTNING IN A BOTTLE


~~ SOLD ~~

LIGHTNING'S THREAT
~~ SOLD ~~



LIMELIGHT'S GOLD


~~ SOLD ~~

LITTLE JOHNNY JOKES
~~ SOLD ~~

LOOKIN
FOR CASH
~~ SOLD ~~

MAJOR'S MIDNIGHT
COINS
~~ SOLD ~~

MARQUEE LIGHTS
~~ SOLD ~~

MASTER'S
BEST SCORE
~~ SOLD ~

MILLENNIUM'S WARRIOR
~ SOLD ~

MY MAGIC SUN
~ SOLD ~

OLYMPIC
DREAM
~~ SOLD ~~

OLYMPIC GOLDRUSH
~~ SOLD ~~

OLYMPIC LIGHTNING
~~ SOLD ~~

OUTRAGEOUS RUBY
~~ SOLD ~~

OUTRAGEOUS STORM OF '76
~~ SOLD ~~



PAINTED BY LIGHTNING


~~ SOLD ~~

PEDDLER'S
BELLE
~~ SOLD ~~

PRESIDENTIAL LEGACY
~~ SOLD ~~

PUSHING AWESOME
~~ SOLD ~~

PUSHING LIGHTNING
~~ SOLD ~~

PUSHOVER'S LUCKY LADY
~ SOLD ~

RAGTIME CHARLIE
~~ SOLD ~~

RAIDERETTE
~~ SOLD ~~

REDEMPTION
~~ SOLD ~~

ROCKIN'
TO THE JAZZ
~~ SOLD ~~

ROLLNG IN THE DEEP
~~ SOLD ~~

SEÑORITA S.
~~ SOLD ~~

SHAWNEE'S IRON RULER
~~ SOLD ~~

SHE GONE FISHING
~~ SOLD ~~

SHE WALKS LIKE AN ANGEL
~~ SOLD ~~

SHE'S A DEVIL IN DISGUISE
~~ SOLD ~~

SHE'S A KNIGHTMARE
~~ SOLD ~~

SHE'S JO KING
~~ SOLD ~~

SHE'S VENUS
~~ SOLD ~~

SHOCK 'N' AWESOME
~~ SOLD ~~

SHOWBOATS BREEZE
~~ SOLD ~~

SKY'S CONFECTION
~~ SOLD ~~

SPIRIT OF
VENGEANCE
~ SOLD ~

SPOTTED
AT THE RITZ
~ SOLD ~

STORMY'S MARIE
~~ SOLD ~~

SUPER GIRL'S VANITY
~~ SOLD ~~

SURVIVOR
ALL STAR
~~ SOLD ~~

THE LAST WAVE OF RAIN
~~ SOLD ~~

THE
ROYAL DUMAS
~~ SOLD ~~

THE BAY BOMBSHELL
~~ SOLD ~~

ULTRA NIGHT PREDATOR NIGHT PREDATOR
~~ SOLD ~~

UNA
MOMA CITA
~~ SOLD ~~

WICKEDLY BOLD
~~ SOLD ~~

WIRE ME MONEY
~~ SOLD ~~

ZEUS LIGHTNING
~~ SOLD ~~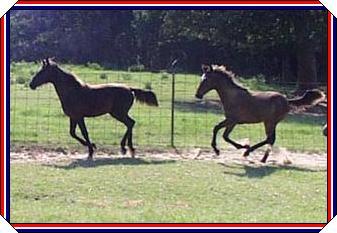 Last Updated: T bot=TimeStamp S-Type="EDITED" S-Format="%B %d, %Y" -->