SOLD
Knightmare has a pretty delicate head, long reaching legs, and a "racing stripe" down the back of each pastern in the back. She is a gorgeous, 15 hand filly, by Collector's Pride of Gold, out of Olympic Dream.

As a two-year-old, she is under saddle and making into a show racking horse. She is still green, but really coming along well. Her price will keep going up. New pictures and videos coming shortly.
Knightmare showed in her first class in 2005 and took 2nd. She is a beautiful talented mare that an intermediate rider would enjoy in the show ring. As she matures she should give the top flat shod racking and speed racking horses a run for their money!
She's a Knightmare with Marco in the irons rode to a Reserve Flat Shod Racking championship, at the Marshall Lion's Club Show, Texas, February 23, 2007.
This video was taken at the TWHBEA HIO show last week end, it was the Speed Racking class. Knightmare got reserve.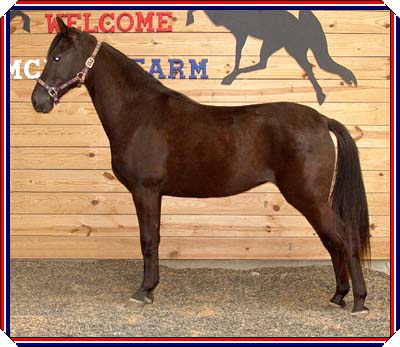 Reference Photos courtesy of The Ancestor Gallery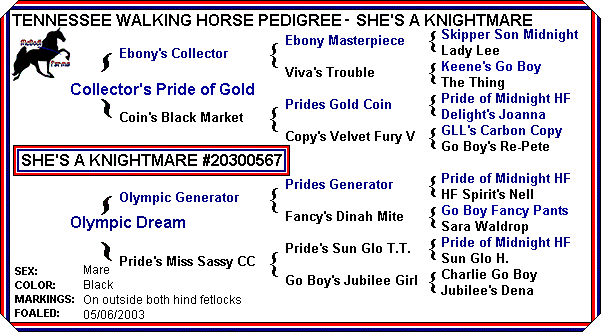 SOLD
For more information, please contact McDodi Farms.


Last Updated: December 27, 2016