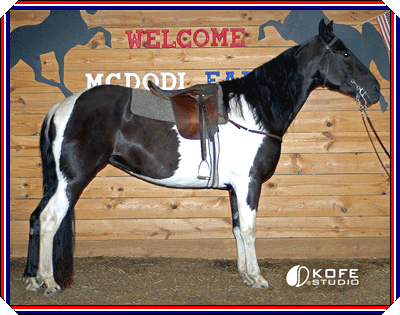 Photo by Tatiana Kozlovski
Lightning is affectionately known as the water glass queen. She rarely looses the water glass class.
| | |
| --- | --- |
| | At 16.2hh she is a big walking mare. She does well in the SSH trail classes, and in the latest Favorite Gait canter class. She has never come in lower than 2nd in a water glass class even when they ask for a canter. |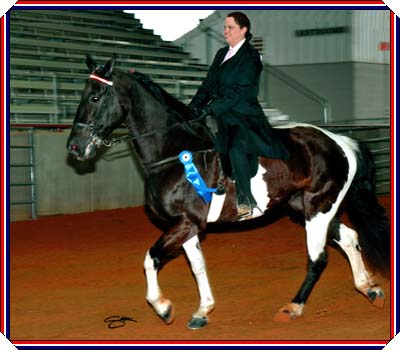 This is a very talented double registered TWH/SSH horse that we are planning to show, trail ride, and breed her when she is old enough.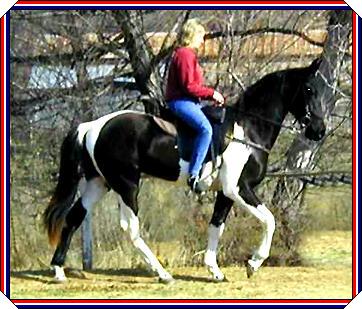 We have the very talented Park Pleasure TWH/SSH horse, Powder River picked out for her for future breeding when she is old enough.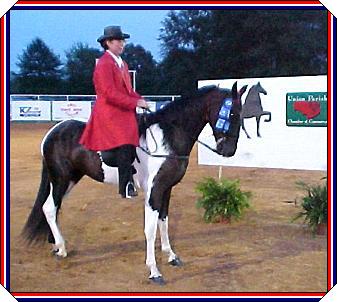 We showed her in Farmerville, La., last week end. She took a first in the Favorite Gait class, 2nd in the Spotted Saddlehorse class, and reserves in both of the championships.

Paint's Copy of Cotton took High Point Honors in the Spotted Saddle Horse category with SWHBA for 2002.

Dodi and Paint's Copy of Cotton at the 2002 Big D Charity Show
Paint's Copy of Cotton is mature now--- at about 16.1 hh (2006). She was the 2005 Reserve Versatility High Point Horse. I use her for show and trails. She is talented, smooth, well bred, and fun to play with. She jumps, side passes, clips and loads. She has a great show and trail career ahead of her.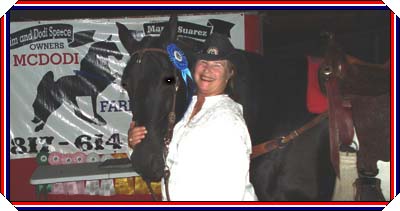 Reference Photos courtesy of The Ancestor Gallery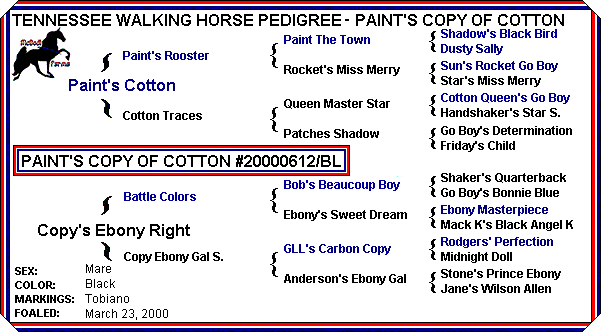 Please contact McDodi Farms for more information.

Last Updated: December 27, 2016